Flower dyeing at G. de Koning Bloemen B.V.
€11/h gross
Two shifts (night shifts)
Honselersdijk
No minimum wage per age system
WHAT
YOUR
JOB
WILL
INVOLVE?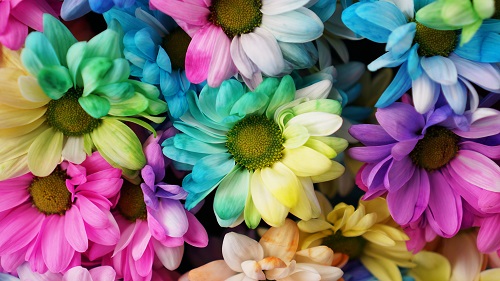 The work takes place in the hall and involves colouring flowers by dipping them in paint and then hanging them up on a belt, which transports them to the drying room.
At other stations, the flowers are painted or glittered using a special pistol.
The company operates a two-shift system:
– day shift: 5:00 -15/16:00;
– night shift: 16/17:00 – 2/3/4/5:00 (taking into account the number of orders).
G. de Koning Bloemen B.V. is a medium-sized company that specialises in dyeing fresh cut flowers (chrysanthemums, roses, carnations, lilies, freesias) and dried decorative elements (leaves, twigs, cones).
Workers can find employment throughout the year with increased demand during festive periods. The season is from November to January.
Stable and legal work with a Dutch contract.
Assistance provided by a English consultant working in the Netherlands.
The hiring process could be online.
Holiday and leave allowance.
Short distance from accommodation to work.
Optional use of company-owned city bicycles (Dutch type bikes).
Wages paid every week into the employee's account (except the first one, which you will receive after 2 weeks).
We offer paid accommodation and health insurance.
Access to the myHolland platform, where you can find your documents and the information you need.
Responsibility.
Commitment.
Willingness to work night shifts.
Motivation to work.
Own work clothes and special shoes.
€11/h

The gross hourly rate

126%

Higher rate for overtime (more than 40 hours)

€

Night shift allowance

€25/week

Driver's allowance
Inne
oferty
tego
pracodawcy